My personal connection to Copenhagen, albeit tenuous, goes back to childhood. My father worked for the US government and would travel to Thule Air Force Base in Greenland through Copenhagen during the 1970s. He didn't stay very long and we didn't hear much about it but he'd bring back some chocolates, Danish coins and a few photos.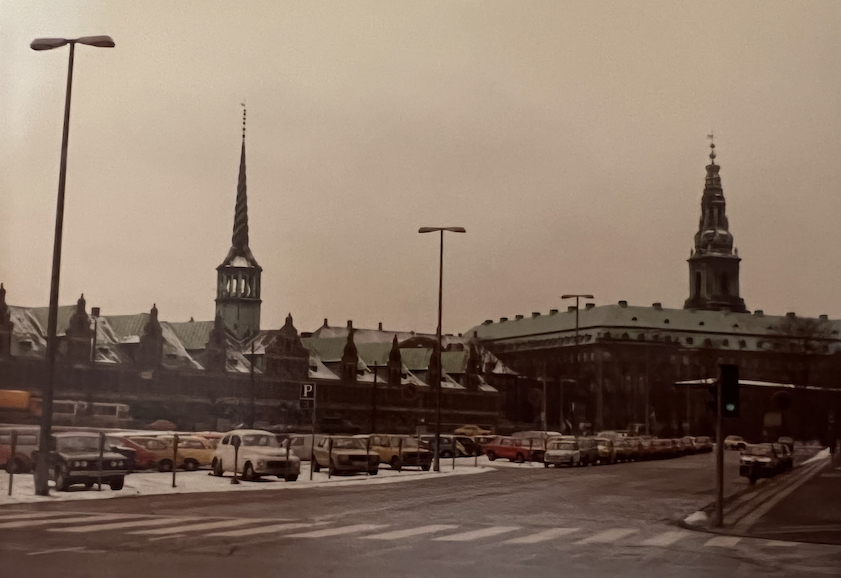 I remember reading about the original noma location in an early 2000s cooking magazine, I believe it was the now defunct Fine Cooking, the pictures, the incredibly innovative food gave me the sense of an otherworldly experience. I thought then that if I had an opportunity to go here I would.
A decade and a half later I'd have a family with teenagers and we'd enjoy traveling and food. Post-COVID 2022 became a time we covered some good ground, multiple trips to France and a family trip to Denmark and Sweden. I swear, honestly, I was not planning to go to Denmark for noma – the world's best restaurant? Expensive! the world's best restaurant? impossible to get into! the world's best restaurant? I don't even have proper attire. Sometimes things just work out …
I hadn't followed noma closely and it wasn't top of my mind but when I started looking at the possible schedule for Copenhagen and what was there I noticed noma on Google Maps and got curious. I checked the website, is it even possible to get a reservation? Sign up for their mailing list and be notified? Ok, I can do that. A new season of reservations was opening very soon. Well that's good luck. A lazy Saturday afternoon rolled into my life and I got the email reservations were open, okay, let's try. Their reservation system infamously had trouble that day, it was overloaded and I couldn't get in at all. I kept trying periodically while doing something else, hours went by, and then my browser loaded the page and I was faced with a frantic choice. Tables for groups – totally booked, tables for two were gone and individual seatings were going incredibly fast, they were literally disappearing before my eyes. I selected a date and made a reservation. done. Ok, what the hell just happened. Come July 2022 I'd be sitting at a table with three strangers eating at what is frequently ranked the world's best restaurant.
Everything else worked out, the dates, the flights, the travel arrangements, the train to Stockholm and back. What seemed like a logistical nightmare proceeded with lockstep success. Our family of six had no cancelled flights, no lost luggage, no delays. We walked our way into the Christianshavn area, my family would drop me at noma and go onto Reffen (that is another story).
I was one of the first people to arrive for the evening and was greeted by staff as they opened the doors. I was escorted into the greenhouse seating area and was offered some drink choices, I went for the sour beer. The advantage of arriving early was that I could relax a little and free beer! I had made a point not to read about the experience but a long-time friend had been to the first location and said it was not pretentious. When someone came in wearing sandals, shorts and lugging a backpack all anxiety about posh left my body. The beer helped.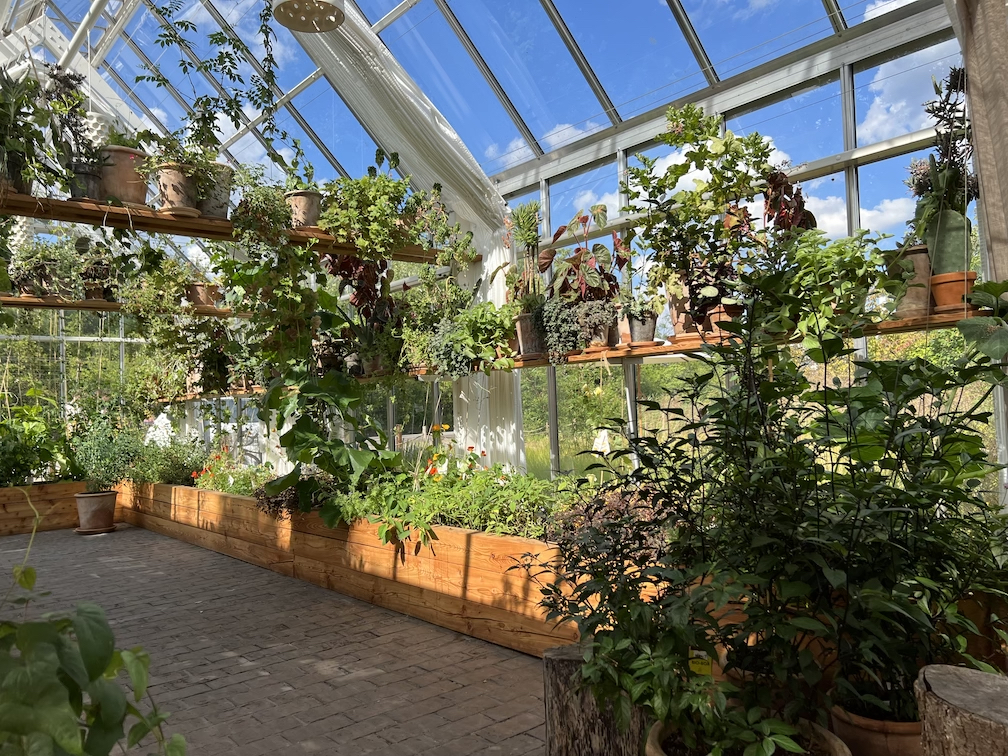 The rest of my group arrived and we were escorted to our table in the smaller dining room. I was seated with three other Americans, there was light conversation amongst ourselves and the staff. Dishes and paired drinks were brought out, explained, we asked questions and repeated this. Eating was relaxed but as soon as everyone finished settings would be cleared and another dish presented.
Myself and two others had selected the alcohol pairing for the meal, one of us had selected the juice pairing and one of us had selected vegan. While the season was vegetables, some alterations for the one were done to eliminate all animal products, mainly egg, milk and honey.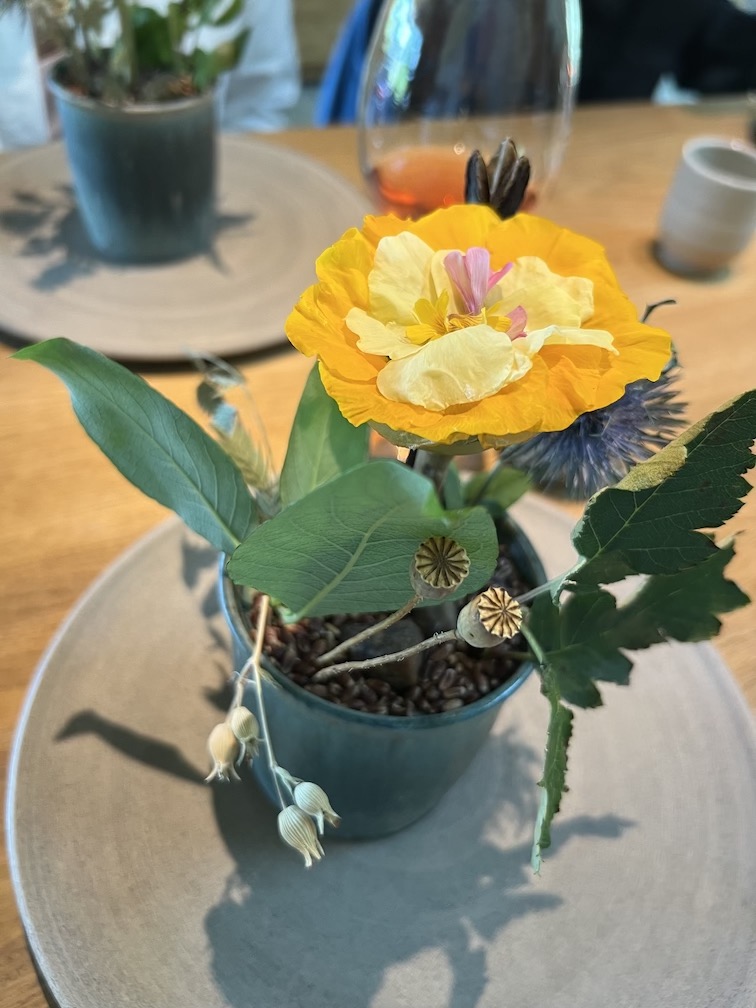 We were all fairly engrossed in the experience, chit-chatting, slowly eating, sipping, taking pictures, commenting, talking to the staff. Realizing it was over we looked around to see we were the last to be done, the room was empty except our table. It almost felt like a crime the other tables had left already.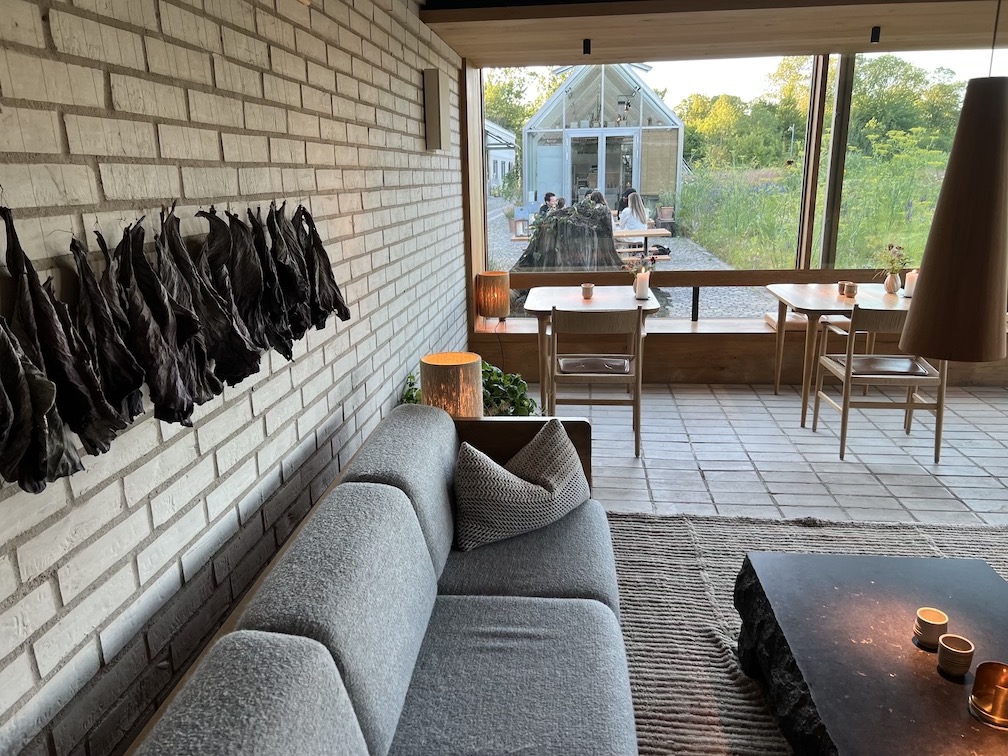 Fortunately I had a little more time as one of the people at the table requested a tour, it was explained we could get a tour on the way out. We settled up and were presented with menus.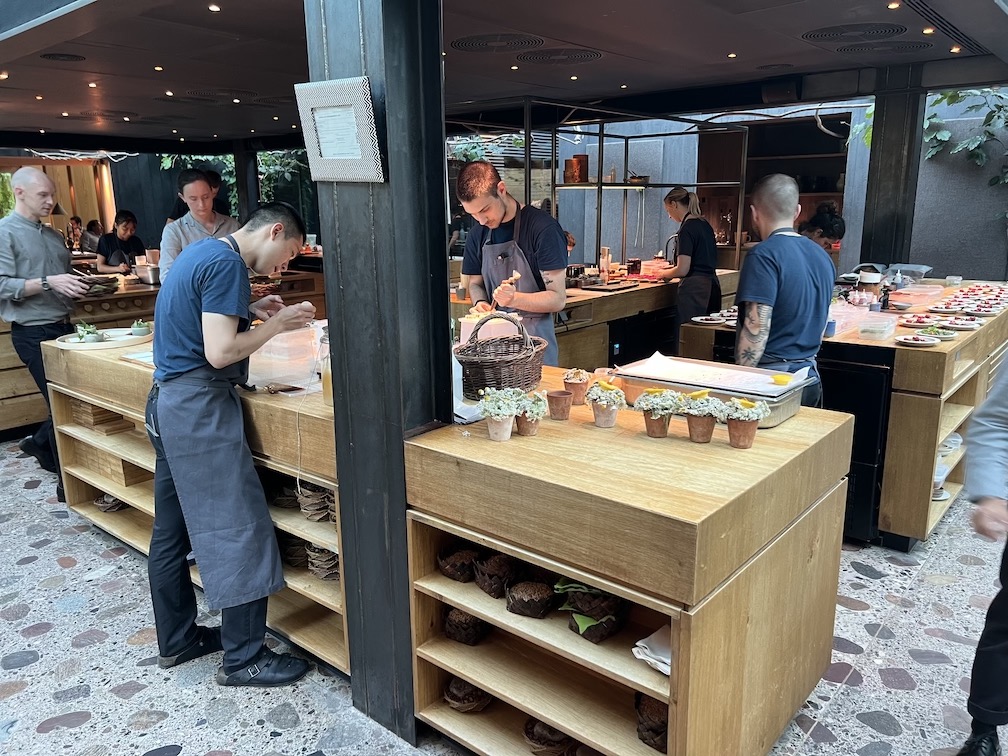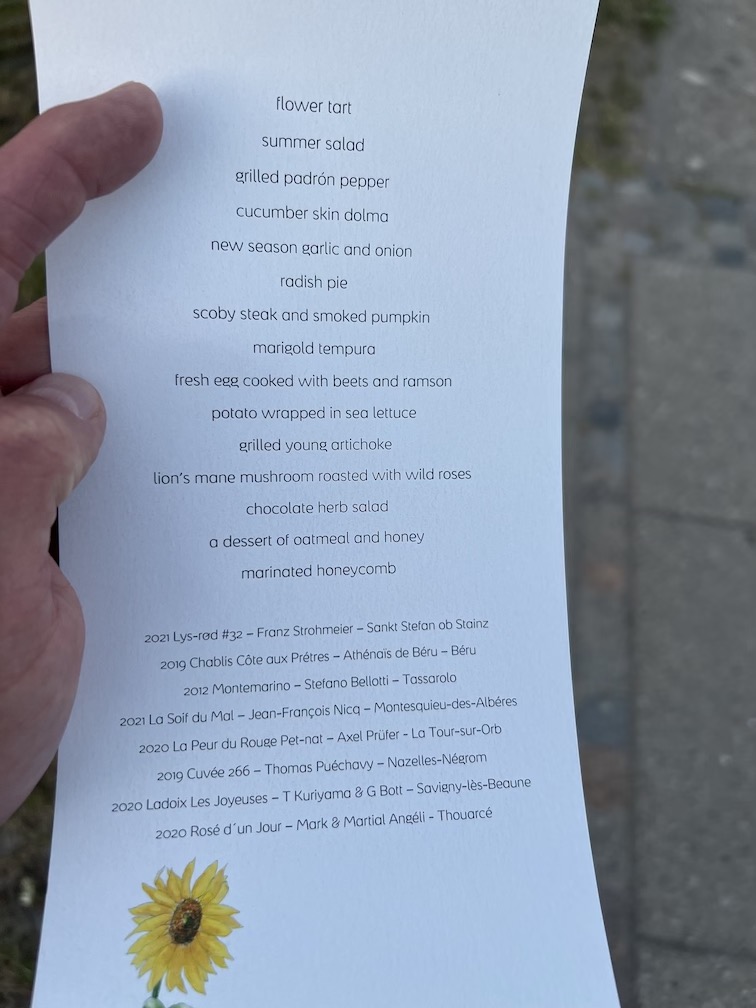 Total damage: DKK 3,000 for the meal, DKK 2,000 for the wine package which totals $700 for one person. With the announcement that noma is closing I feel lucky to have had this experience before it disappears forever.
Wait! What about the food??
Oh right, well, I would say nothing I had was an incredible shock but it was incredibly divine flavors and complexity, a pinnacle of assembly, care and presentation. I've had a scoby in my fridge, I eat a wide variety of fresh vegetables, I've eaten honeycomb, good chocolate, fermented food, sour beer. I have experienced a lot of what I experienced at noma through friends or small restaurants or travel but in not such a refined form. The question 20 years after noma was founded is not how much is noma different from the rest of the world but how much the rest of the world has become similar to noma. I think this is a good thing.